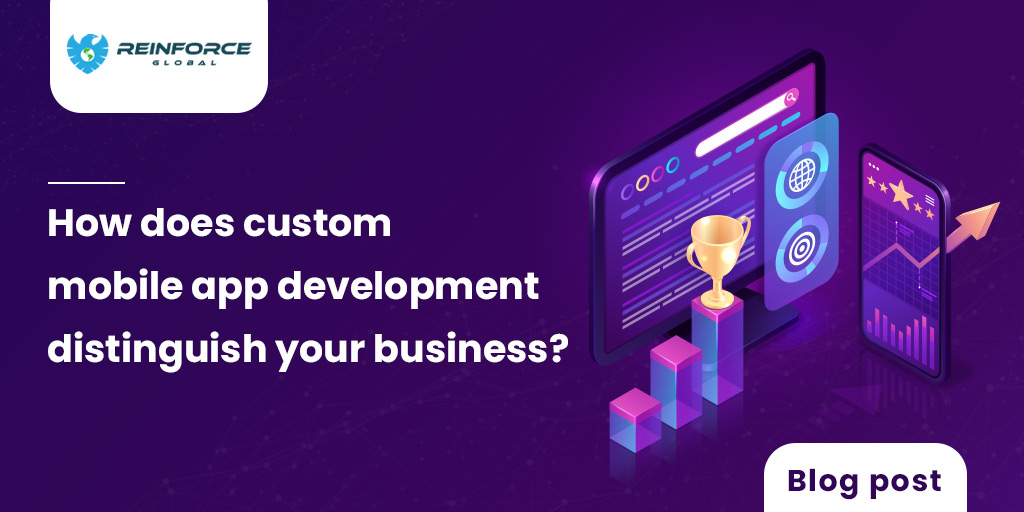 How Does Custom Mobile App Development Distinguish Your Business?
In the modern world, the fastest way to reach users is via an app. Whether you sell electronics goods, insurance services, or stocks, a well-designed and functional application can always place you in the lead. Now, one thing is that you just develop a generic app with features that users may or may not need. On the other hand, develop an app that is absolutely user-centric.
Though both are viable options, a custom app can be more specific in serving the users. For example, if you are developing a payments app, adding a chat feature can be irrelevant as there are dedicated apps for that. On the other hand, adding a bill payment feature will be relevant.
This is just an example. The key thing is that custom app development can be a better and cost-effective choice. There are many other benefits of custom app development. Let's read ahead and find out!
A Quick Overview of Custom App Development!
Well, unlike regular app development, custom app development allows the developer to develop an app that is focused on specific user needs. Many apps on the web are built with ready-to-use templates and have features that most users don't need.
One example of this is Paytm. The app helps make payments, but it also has a shopping feature. Though it is utilitarian, it is not much used as most users rush to other shopping apps like Amazon. In a nutshell, a custom app is not a one-size fits all app.
Currently, the trend of custom app development is high as the market is speculated to rise by $38.15 billion from 2021 to 2026. Therefore, if you have a unique idea that can offer utility to the users, working on it to build a custom app can be a goldmine for you.
Exploring the Benefits of Custom Mobile App Development
The fact that a custom app can be built to serve the dedicated requirements of the users makes it yield numerous benefits. Let's unravel some of the best ones!
Increased Productivity
The number one benefit of custom mobile app development is productivity. It is obvious that when all the required features are in one app, you won't have to use multiple apps for it. Hence, building a custom mobile app for your business will boost your productivity.
The same is true for the users, as they won't have to use different apps for their needs. In light of the same, your app will attract more downloads and more ROI.
Super Secure
Generic app development may not offer you security as per the latest standards and protocols. Hence, the possibility of data theft backed by cyberattacks increases. On the other hand, with custom app development, you have to keep the security features as per the latest standards.
Further, if the custom app is built for a specific OS like iOS, the security requirements are stringent.
Seamless Maintenance
One of the best benefits of custom app development is maintenance. If third-party templates are used to make the app, their changes can be tough as you have to understand the entire code. Moreover, the third-party templates may not be editable.
On the other hand, most of the code of the custom app is written by the developers, and they ensure that it is crisp and concise. Developers can also program the app for future updates. Hence, it is much easier to make changes to it and maintain the app in the future.
Scale Faster
Apps templates that come from third parties may bloat your app code a lot which can affect performance. Consequently, it can also stop you from adding additional features if required. This issue with off-the-shelf apps causes problems with scalability.
In contrast to this, custom apps are built to adapt to future changes. Developers design the apps in a way that they can be scaled as per requirements in the future with minimum effort.
Ensures Reliability
If you are developing an app for your business or for the users, it needs to be reliable. As users and employees are becoming more aware of their personal information, it is necessary to keep their data secure.
With third-party apps, reliability cannot be promised as the code of the app is pre-written. In a custom app, you can program as per your business needs to ensure supreme reliability. For example, in a company app, you can add two-factor authentication for authentication and thus boosting reliability.
Top-notch User Experience
As per stats, 38% of the users will stop interacting with an app that is poorly designed. Hence, better user experience is a must-include factor among the benefits of mobile app development, whether it is custom or generic.
In the case of a custom app, you have the liberty to change every inch of your app interface and functionality. Therefore, you can offer a better user experience. On the other hand, third-party apps or templates may not offer you such a choice. Therefore, some of the user experience elements, like navigation, page architecture, and animations, may not be configurable.
Smooth Interoperability
Your business might be using a lot of software on the side. And with the addition of this new one, it can be tough to manage workflow if it is not interoperable. While a generic app may pose challenges in the case of interoperability, a custom app will not.
In a custom app, you can make changes to make it operable or compatible with the existing software in your organization. Though it may take some time, it will streamline your workflow.
These are some of the prime benefits of custom app development. If you plan to make a custom app, read ahead to find some great tips.
Top Tips for Custom Mobile App Development
Well, you have chosen the right way to develop an app for your business. To make it worthwhile and save time, we have garnered some awesome tips for you. Check them out!
To make the best custom app for your business, it is super important to understand and segment your audience. The more precise you will be with your target audience, the better it will be to make, launch, and populate your custom app.
Focusing on your business model is the second critical aspect. To build a strong business model, you must determine which type of content the users like. Based on that, tune the app content.
No matter how much time and money you have spent on the app. If you are not providing value to your customers, it is of no use. For example, if you have an eCommerce app, provide value in your products. Moreover, keep the app navigation faster and all the necessary functions easy to find.
Investing in the right tech stack is the last step to a remarkable custom mobile app. Ensure you are backed by all the necessary and advanced technologies, like programming languages, servers, UI elements, etc. Use faster machines to ensure supreme efficiency and swift output. As competition is tough, it is best to be ahead of schedule.
Conclusion
User experience is the crux of every app. And this is highly dependent on the elements of the app. With custom mobile app development, you are free to alter every little detail of the app, unlike regular app development. Hence, you can adjust the app code to your will, ensuring the best user experience. On top of that, a custom-built mobile application is more reliable, secure, scalable, and fast.
If you are up for a remarkable custom application, you need the best team by your side. Reinforce Global is an ingenious software development company that can bring your custom app vision to life. Get a quote today!