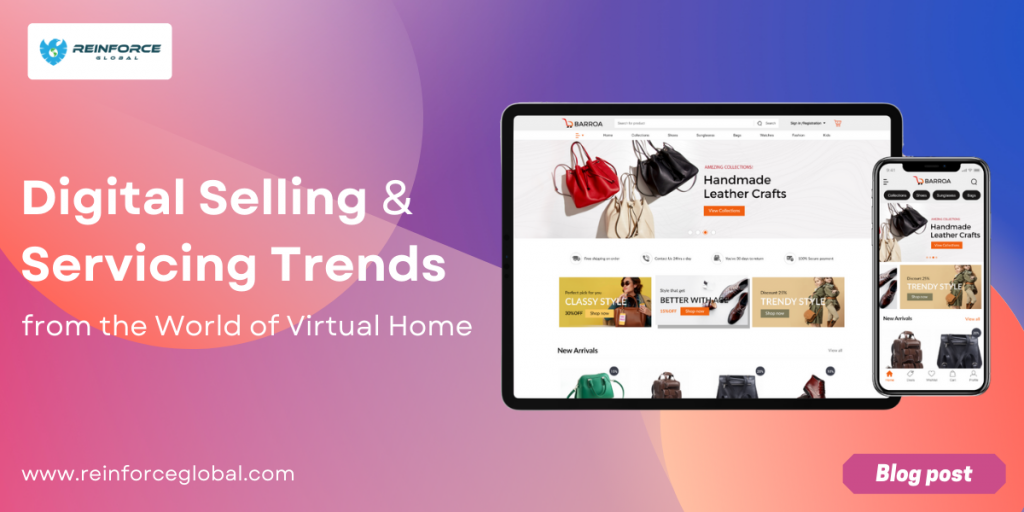 Digital Selling Trends from the World of Virtual Home
The pandemic has expedited digital transformation and it changes every aspect of our lives like the way we work, shop, and live. Real estate is no exception.
Just like other industries real estate also rises with disruption in 2020. To accommodate people on the move of a pandemic the industry was going through the stimulation of digital capabilities to assist renters, buyers, and sellers. A report of a survey conducted by Zillow indicates that 36% of American buyers and 43% of sellers are more likely to purchase homes completely online.
A remarkable Americans have changed their thinking about the living situation. It may be temporary or for the long term but has led to an exceptional requirement for contactless and remote or in other words virtual real estates transactions like viewing, inspections, or mortgaging. Gen Z or millennials prefer digital end-to-end customer journeys.
This is the best time to invest in the digital experience of services you offer to buyers and renters cause the landscape of real estate has been shifted to composite online and in person. Your properties may be left behind if you are unable to accommodate online research and purchase in the online experience of your website & mobile application.
We have summarised ideas on how to upgrade the digital experience you offer and how Reinforce Global can help you to add innovative features in your web and app to give a seamless digital experience to buyers, sellers, and renters.
Empowered Touring 
Home buying, selling, and financing platforms are using maximum technologies to engross browsers into a potential home. So that they can boost the confidence of shoppers during the selection process and empower customers to experience locations safely on their terms.
Americans prefer agents who provide 3D property touring but there are lower-tech options are also available. Self-touring and online buying can make the house-hunting process easy. E.g. Website visitors can schedule a self-tour as per their convenience and receive an OTP to unlock the door, take a tour and then buy online.
Interactive and Immersive Maps
After the virtual home tour, the next step is a tour of the neighborhood. Interactive maps of the vicinity should be provided by real estate and rental companies. The key amenities can be highlighted in an interactive map and it will provide more information to buyers without visiting in person.
Integrate Video Calls and Chat Options 
It is the key to making your clients feel supported through their journey while you are not able to educate your customers in person in your office. To keep buyers and renters engaged enable easy video calls, outreach, and immediate responses in your digital experience.
Virtual Paperwork and eSignatures 
While closing the deal taking an eSignature has made the process breeze. E-signature and digital documentation is an efficient and established way to exchange documents also a clear traceable record of revision to get referred at any point.
The virtual world has become a major part of the real estate business and it is here to stay. If you want to upgrade your real estate website or application, let's talk.