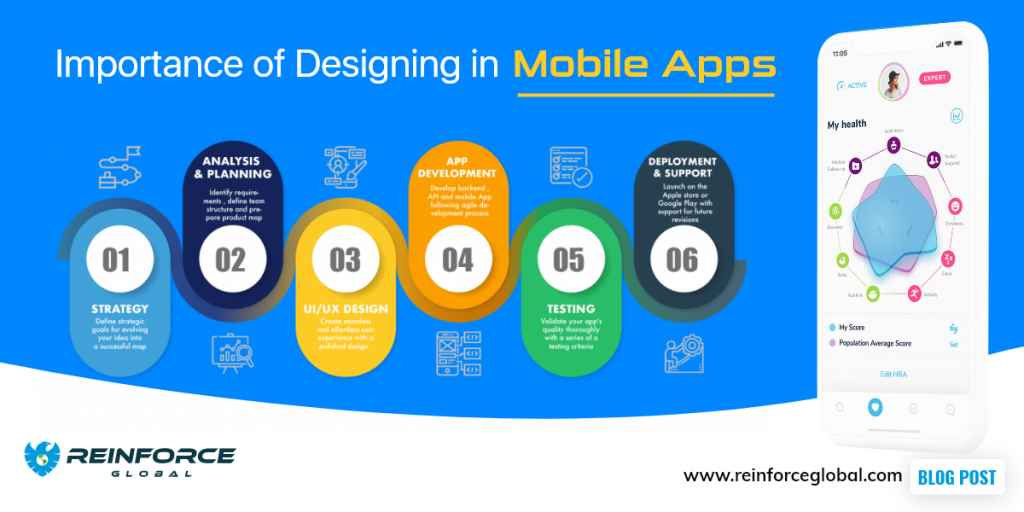 Importance of Designing in Mobile Apps
Approx 218 billion apps were downloaded from the iOS app store and Google play store and it does not include third-party app stores. It is roughly 15 Persons and that's a lot of applications. Downloads are in billions no wonder the average churn rate is 57% in the first month and 71% after 90 days.
So why it is so many apps fail?
The Most repeated errors are failing to maintain consistency throughout the lifespan of an application and difficulty attracting users in the first place.
The most challenging part of designing an app is to keep it simple without making it repetitive and boring. An app must provide appealing design and UX details without neglecting a greater purpose
Technical education has increased in people year by year. Comforting prospect is designer can experiment with app designs and offer innovative solutions. Using AR or VR, VUIs and many other technologies new way of interaction can be designed
Having freedom is a great thing but it is equally important to know the current trends and what designers are looking forward to and creating in 2021. The more knowledge you have about the industry and customer experiences design becomes better.
The Keystone to Know When Designing Mobile Applications:
A. Information Architecture:
The main objective behind IA is to offer easy navigation to the users irrespective of the browser they are using. In other words to help people find what they are looking for. Information architecture is all about providing a top-notch navigation experience.
B. Interaction design:
It is the conceptual design through which users interact with an application. It comprises elements such as fonts, images, aesthetics, colors, icon, etc.
C. Usability:
Mobile app design principles also include ensuring that users are getting information that they need through using the application and a self-serving way to handle issues is provided. The end goal of usability is that users can be achieved and there are no misplaced critical features.
D. Visual Design
Strategically implementing elements such as fonts, images, colors, icons, etc. improves the ornamental value of an app. It is all about making an impact on the users every time of their interactions. It is the definition of an app in the user's eyes.
Summary:
It is essential for design teams to acknowledge how determining the mobile app market is and do their best to differentiate their offering from thousands of others apps occupying the same space. To make this possible, the designer should have an intelligible vision of what the mobile applications industry is dreaming to achieve.
Using interactive design process and following mobile app design best practices that includes user feedback into the process is one of the perfect ways to create an app that stands out
Get in touch with bespoke mobile app design company Reinforce Global that can help you deliver lasting memories