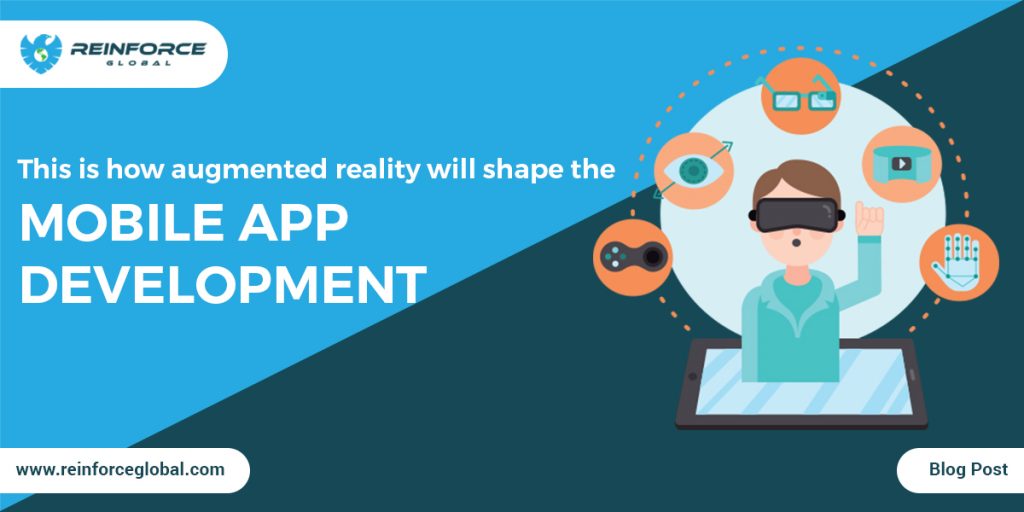 This is how augmented reality will shape the mobile app development
AR reinvent the way users receive information and interact with the app combining visuals, sounds and enhance interactivity. It is a powerful engagement tool that businesses can use in their software products.
Many tech industry leaders believe that AR is promising technology and already yielding profits. Microsoft, Google, and Apple are already developing Microsoft HoloLens and Apple ARKit that will allow developers worldwide to create new AR applications. AR will be part of the great revolution in developing gaming and entertainment mobile apps. Few companies have an in-house development team for developing AR and VR apps, you want to outsource your app then Reinforce Global Can Help.
If you have decided to invest in AR must read the latest trends and applications of augmented reality.
1. Mobile AR Engages Customers:
Mobile apps are the widest distribution platform where you can present your product and services to millions of users. It fulfills all the needs to bring directly to your customer's fingertips that too personalize and fascinating visuals.
AR technology app development needs special attention to testing, this will help companies to recognize if their final product will engage their users or not. Many industries like games, retailers are discovering AR's power to engage users
2. AR Powers Indoor Navigation:
We all have to rely on Apple's Maps app or Google Maps especially navigating outdoor destinations and we know that convenient navigation is essential in this digital era. When we talk about indoor navigation these mapping services cannot help and we need a different solution. That's where AR can help. Through AR-based indoor navigation, visitors can find the easiest routes to shops in the mall. AR navigations can be integrated with security solutions that restrict access to specific areas.
Better indoor navigation helps users find their way in large office buildings, airports, hospitals, factories, and shopping malls. It also enhances passenger flow. Combine AR with machine vision to build an indoor navigation tool. Mobile navigation app scans specific marks placed throughout the building to determine a user's location inside.
3. Face-Based AR Boosts Fitness Apps:
The feature of AI can be implied in all fitness applications. AR-based applications show progress towards weight loss goals. Facial recognition technology powered by AR is opening new doors of opportunity for apps.
4. AR Enables Object Recognition:
AR is used to recognize the object and get additional information through a virtual manual on smartphones. It gives a convenient way for the users to be familiar with new electronic devices. This AR technology is helpful for all smart home appliances, cars, or machinery app dashboards.
Your Business Can Benefit from AR:
Augmented reality is a revolutionary way to make an app more interactive and keep your customers engaged. From product presentation to real-time monitoring, service delivery to navigation AR is diverse enough to serve B2B and B2C markets.
AR is a perfect opportunity to give companies an edge over the competition as it is more common and easier to employ.